HOTEL VILLA ROSA RIVIERA
Viale Vespucci 71 Rimini
Where we are
+39 0541 22506
+39 0541 27940
+393394868025
inforosa@villarosariviera.it

Contact Us
For general enquiries and further information, please contact our team at Hotel Villa Rosa Riviera we will be happy to help you.
Have questions or requests regarding an existing booking, our latest deals or the services we offer? The easiest and most effective way is to contact us via e-mail, by using the form below: we'll get back to you as soon as we can with an answer to your enquiry.

HOW TO REACH US
We are at Viale Amerigo Vespucci, 71 in Rimini
You can reach us at:
By car:
From the A14 motorway – exit Rimini Sud, direction Centro – Mare opposite the bathroom n. 28
We suggest setting the navigator to Rimini, Viale Vespucci 71
By Train:
From the railway station – direction Sea in front of the bathroom n. 28 with trolleybus n. 11 stop no. 12
By plane:
From Federico Fellini airport – direction Rimini-Miramare, and then Centro-Mare in front of the bathroom no. 28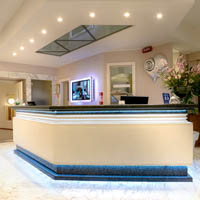 Staff
Staff Reception
+39 0541 22506
inforosa@villarosariviera.it
RESERVATION ENQUIRY
The staff at the Hotel Villa Rosa Riviera are happy to assist you with a tailor-made quote.